The Unofficial Swift Apple Calendar Library. View. Control. for iOS & tvOS.
---
How will my calendar dateCells look with this library?
This Library is a UICollectionView subclass. This means your date cells will look however you want it to look. 100% customizable.
Has this project saved you months of coding?
Have you developed a cool looking calendar with this library?
Features
---
[x] Range selection - select dates in a range. The design is entirely up to you.
[x] Boundary dates - limit the calendar date range
[x] Week/month mode - show 1 row of weekdays. Or 2, 3 or 6
[x] Custom cells - make your day-cells look however you want, with any functionality you want
[x] Custom calendar view - make your calendar look however you want, with what ever functionality you want
[x] First Day of week - pick anyday to be first day of the week
[x] Horizontal or vertical mode
[x] Ability to add month headers in varying sizes/styles of your liking
[x] Ability to scroll to any month by simply using the date
[x] Ability to design your calendar however you want. You want it, you build it
Contents for Version 7
Version 7.0 Tutorials still in progress ⚠️
4. Common Questions #1
This video answers common questions.
Starting your calendar off at a particular date.
Configuring tday's date.
How to load dates from a server.
Creating headers.
Adding simple animation.
Creating a date boundary.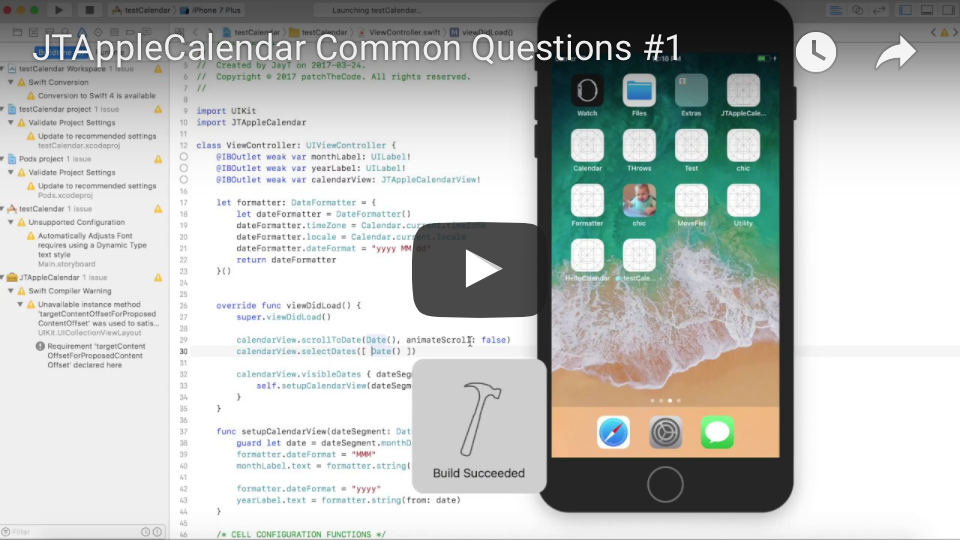 Contents for Version 6
Quick Tutorial - Important to understanding topics below

Part 1 - Basic concepts
Part 2 - Setting up selection

DateCells